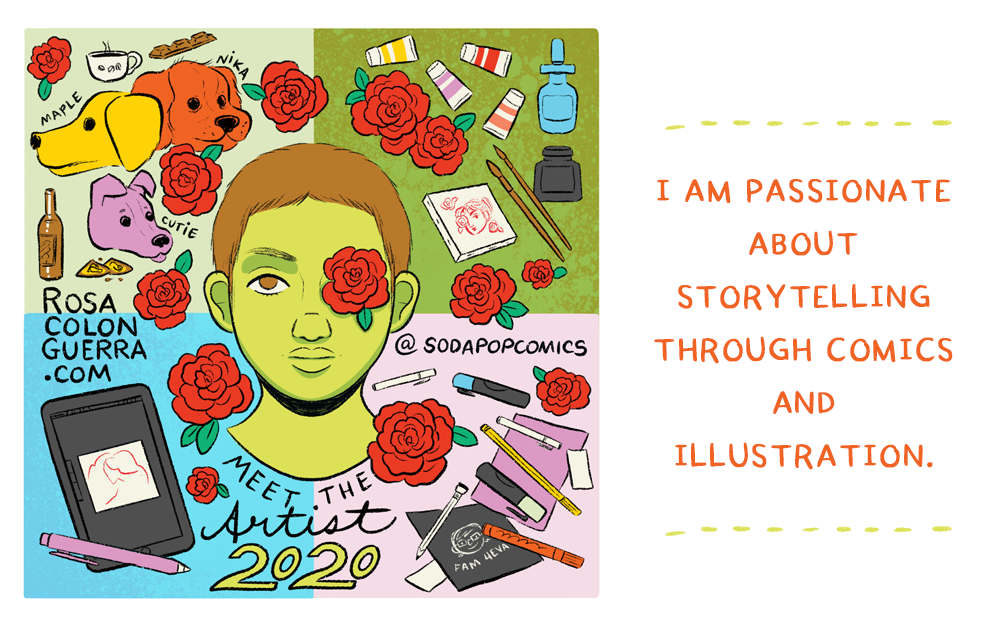 I've been drawing and self publishing my own comics (along with Carla Rodríguez, the writer) as

Soda Pop Comics

for ten years. I have a BA in Humanities-Fine Arts from the University of Puerto Rico Río Piedras and a MA in Sequential Art and Design from the University of Brighton, England.
I write and illustrate comics focusing on Puerto Rico's financial crisis and life during Hurricane María and its aftermath.

I've been published in The Nib, Splinter News and Lion Forge's Eisner winner Puerto Rico Strong Anthology.
Soda Pop Comics

has participated in different indie comic cons in the U.S and abroad - MoCCA Fest (Museum of Comic and Cartoon Art Fest), CAKE (Chicago Comic Expo), MICE (Massachusetts Indie Comic Expo) and TCAF (Toronto Comic Art Festival) in Canada.
During the past years I've been collaborating (as Soda Pop Comics) with various artist in different disciplines. Whether it's curating and participating in art shows, or editing a comics anthology,

I'm very lucky to be a part of the indie art community in Puerto Rico.
Traveling to indie cons inspired me (along with Carla Rodríguez) to create Tintero: Festival de Cómics y Arte Independiente

,

 an indie art festival focusing exclusively on local illustrators and artists. We've had four successful iterations of the festival, as well as conferences, pop up stores and art workshops.
I am freelancing as an illustrator full time with the hopes that every new project makes me a better artist and person.